ISBN: 978-1-936913-30-5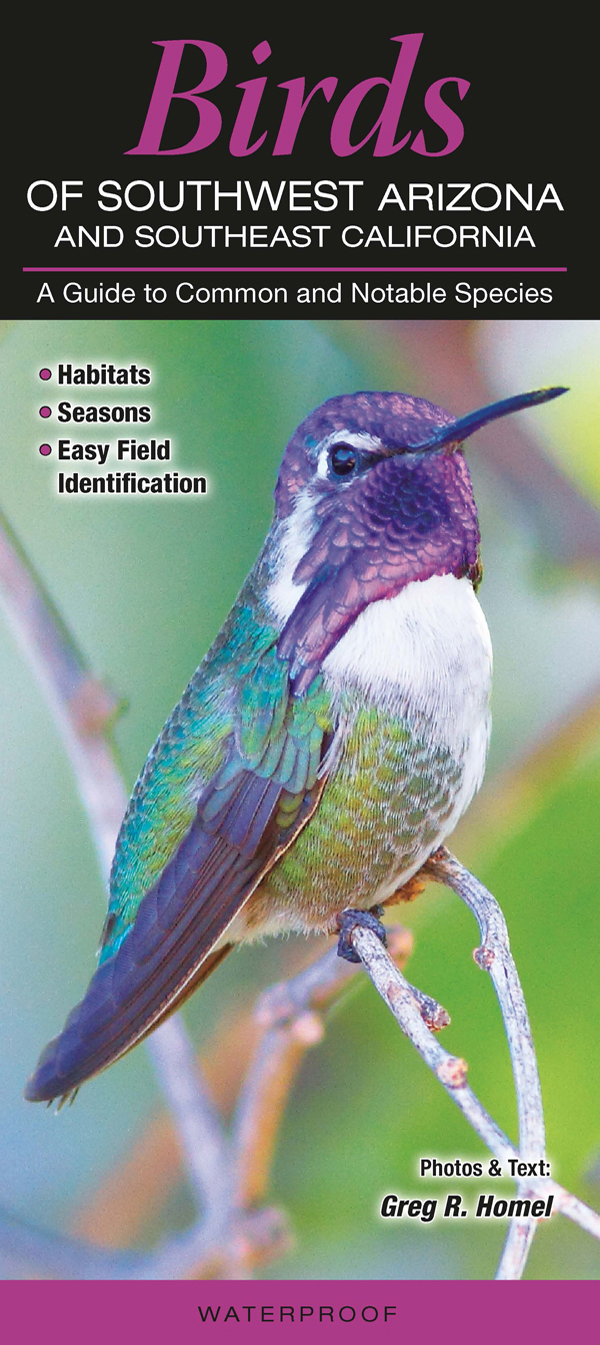 Birds of Southwest Arizona and Southeast California is a quick and easy to use, light-weight, durable, all-weather field guide to the inspiring and remarkably varied birdlife of the desert southwest. Unlike most guides to the region, this guide does not stop at artificial state lines—rather it treats a representative sample of birds inhabiting Southwestern Arizona's and Southeastern California's portions of the great Sonoran and Mojave deserts as a whole, bisected by the Lower Colorado River Valley.
Stunning digital photographs depict 130 species of common and notable birds, enabling users to identify nearly every commonly-occurring and regional bird specialty they encounter—day or night—in an area spanning from Phoenix, Gila Bend, the Tohono O'odham Nation, Organ Pipe Cactus National Monument and Yuma in southern Arizona, west through the Lower Colorado River Valley to California's Salton Sea and Anza Borrego Desert State Park, then north to Joshua Tree National Park, Mojave National Preserve, Bullhead City, Kingman, and all points between.
Aimed at beginning and intermediate birders, the guide will easily fit into any daypack, pocket or glove compartment, facilitating easy field identification—whether in a backyard, on a family vacation, or a serious birding trip visiting the best birding hot spots in the region.
Click here to view an electronic sample »