ISBN: 978-1-936913-06-0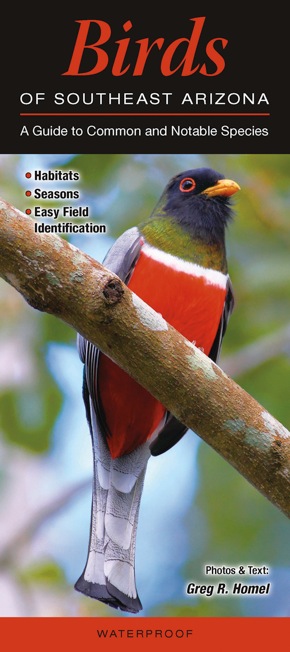 Birds of Southeast Arizona is an easy-to-use, light-weight, durable, all-weather field guide to the incredibly varied birdlife of perhaps the best inland birding area in the United States: Southeastern Arizona. This area features includes the saguaro- and ocotillo-clad Sonoran and Chihuahuan deserts, rugged canyons, lofty pines, oak-studded "sky islands," the riparian San Pedro River and grassy Sulphur Springs valleys!
Stunning photographs of 130 species of common and notable birds will enable users to identify nearly every commonly-occurring and regional bird specialty they encounter—day or night. This guide covers parts of 4 Southern Arizona Counties—Casa Grande and Sells in the west, eastward to the New Mexico State line, then south to the Mexican border.
Aimed at beginning and intermediate birders, the guide fits easily into a daypack, pocket or glove compartment, making field identification easy—whether in a backyard, on vacation, or a on serious birding trip to the best birding hot spots in Southeastern Arizona.
Click here to view an electronic sample »